ENCOUNTERS (SERIES)
ENCOUNTERS is an ongoing experimental series, that circles around the question of how acoustic, spatial and temporal structures of a work define the interaction between the participants or members of the audience and how these structures can be used as a material to compose spheres that challenge the conventional settings in which art and/or sound are experienced.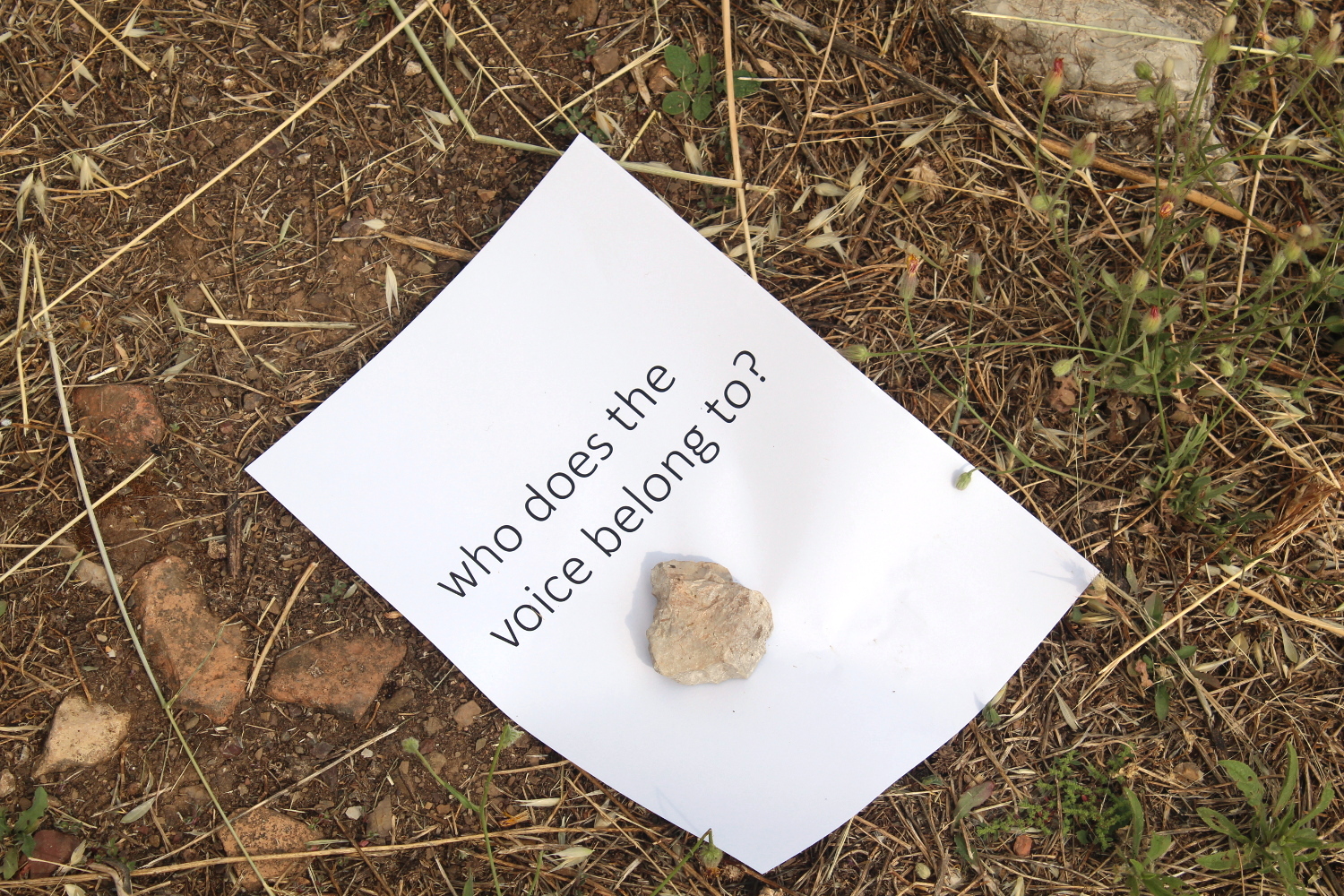 ENCOUNTERS, a series of performances and compositions for public space, is understood more as experiments than finished works. Although the performances can be quite different they share certain aspects: they are developed in relation to a given site, they take place mostly outdoors and they are based on written text fragments.

The main idea is to create a framework in which people come together for a given time. Their listening, their movement in space, their thinking and eventual exchange of thoughts might establish a field, a network of relations that is on sensitive towards the environment it takes place, towards the internal dynamics, but also to the inherent fragility of this sphere.

The underlying questions within this series are for me: how can these spheres be composed - spheres, that are open to individual responses and modes of perception but are also able to evoke a sense of collective concentration for the present moment? Situations that include the unforeseen, that can't simply be consumed, that render us active?

One approach is to experiment with rhythms of solitude and exchange. That can happen either through walking instructions in which participants move individually, but encounter each other at certain points, or the alternation of sound/text and extended silences in which what was heard can unfold or resonate, in which thoughts and associations can appear.

With this series I want to experiment with structures that are (partly) dynamic, that work like a reactive system. A system that includes internal and external factors and forces. As a consequence the distinction between performer/listener is often modulated, the separation between a stage and a defined area for an audience, too. There's no audio-visual center (or central perspective) but the idea of points in a net or field in which people can move along. That means that each participating person has a different experience, but nevertheless there might be sense of connection between the participants and towards their shared local environment. The totality of the work can't be grasped, only imagined.
Each work is always a co-production with the environment: the site or area does not only serve as a context for the development of the work, but takes actively part in every moment. The text fragments are often an invitation to sense the wider surroundings and to engage with it.
The texts and instructions are held simple on purpose, so they can easily be recited and understood. They are not meant to be complete in themselves but to activate a wider range of perception and joint thinking processes.

The questions "how can these spheres be composed?" is also about a delicate balance: how much openness and fragility is possible? what kind of frame, set of assignments or algorithms do they need? It's a threshold where both is always present - the poetic and the possibility of failure.

The central motive of this series could be described as followed: to initiate an immanent collective concentration that is embedded into the very environment it takes place.






ENCOUNTERS #01 (Stairs) - Valparaiso, Chile 07.12.2017

ENCOUNTERS #02 (In Between) - Valparaiso, Chile 09.12.2017

ENCOUNTERS #03 (Do we share the same time?) - Münster 11.05.2018

ENCOUNTERS #04 (Skenotheke) - Messene, Greece 01.06.2018

ENCOUNTERS #05 (Oude Warande) - Tilburg, Netherlands 21.11.2018

ENCOUNTERS #06 (Chora) - Brussels Belgium 05.05.2019

ENCOUNTERS #07 (Place du Conseil) - Brussels, Belgium 19.05.2019